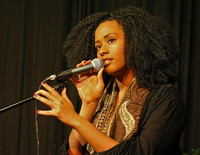 You Will Learn How To ...
• Apply powerful mindful performance techniques for auditions, media appearances & performance jobs, a series of nonverbal skills and the mindfulness of body language - the way you look, sound, move - that engage, influence, inspire and persuade.
• Develop a compelling monologue (or backstory) either assigned or an original that encourages natural communication, movement and character development that you can use at any audition.
• Skillfully manage the awkwardness and tension that naturally occurs in the body when speaking and learn to be present, grounded and comfortable.
• Create colorful choices when presenting to an audience.
• Learn key techniques that make effective use of learning lines when your limited in time due to last minute script changes.
• Anticipate media questions (and objections) and maintain your composure in difficult situations.
• Transfer your skills to film, television and new media (if applicable), both critical elements in today's social media driven and digital casting business models.
You have an audition, performance or a media appearance. You've learned your lines, copy or speaking points. And there is one MAJOR problem... You don't know how to fully bring yourself (or character) to life with mindful movement and delivery skills to leave a mind-blowing effect on your audience.
As an entertainer you may sometimes feel that you are less than effective when speaking in front audience. You may lack knowledge in knowing "how to say it" both verbally and physically leaving you to become less than confident therefore producing a undesirable lasting impression.
You want to represent yourself and your abilities in a positive light knowing that you delivered what you set out to do.
Any professional entertainer can master the art of speaking and communication by learning a series of concrete skills. By presenting your materials in a confident and skillful manner, you will demonstrate to your audience that you are both savvy and comfortable engaging with them.
Today we are all entrepreneurs representing our personal brand, every time we leave home... and the world is watching.
I will equip you with tips, tools and techniques required to see a noticeable difference in your internal dialogue and external actions.
Starting March 19th, 2018, with "live" courses every week for 6 months, the program focuses on the systematic mastery of text/dialogue and communication skills, as well as techniques and exercises enabling you to engage, explore, discover, and deliver your best performance.
These skills are fully transferable off-stage/off-camera and applicable in daily life.
Private coaching, remote coaching, group courses and on-set/production consulting available.